Trucking news and briefs for Thursday, Sept. 21, 2023:
Market conditions index moved positively in July, but still showing shipper-favorable conditions
Market conditions for trucking companies in July were slightly better than in June, according to FTR's latest Trucking Conditions Index report.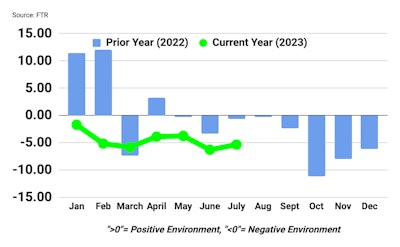 While improved from June, FTR's index remained in negative territory at -5.34, compared to June's -6.29 reading. The firm said the improvement was a result of improved freight volume and capacity utilization, which offset weaker rates and higher fuel costs.
Carriers have continued to face challenging market conditions since July, and FTR noted surging fuel prices in August and September will send the TCI even lower in the near term. Aside from fuel cost volatility, the outlook is for only gradual improvement toward neutral readings by the third quarter of 2024.
"The overall truck freight market remains unfavorable for trucking companies, but the financial situation for smaller carriers in particular is tightening due to surging diesel prices," said Avery Vise, FTR's vice president of trucking. "Large numbers of small operations are exiting the market, and that exodus could accelerate if diesel prices continue to rise sharply."
Vise noted that "larger carriers have absorbed" many owner-operators who moved from running with authority or parked their units in search of company work for now, but truckload carriers are approaching a saturation point given "sluggish freight demand." Falling overall numbers of working truckers "could tighten the market modestly, but significant improvement for carriers will require stronger volume as well."
[Related: Low diesel fuel inventory, volatile pricing likely to boost carrier exits]
Port of Oakland ZEV event offered test-drive opportunity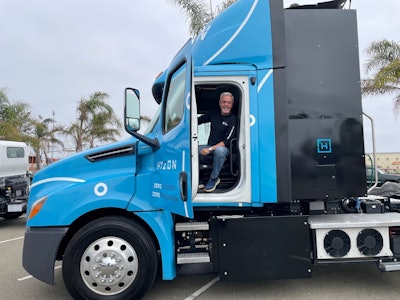 The Port of Oakland joined forces with community partners recently to host a "Zero Emissions Truck Ride and Drive" event, providing port operators the opportunity to experience ZEV vehicles firsthand.
The port partnered with Harbor Trucking Association, Calstart, California's Hybrid and Zero-Emissions Truck and Bus Voucher Incentive Project (HVIP), California Air Resources Board (CARB), and PG&E to host the ZEV event on Friday, Sept. 15, at Middle Harbor Shoreline Park.
The event provided a glimpse at future technology for port drayage drivers, motor carriers and other port community members, organizers said. They also had the opportunity to talk to various experts on-hand about transitioning fleets to trucks powered by clean technology, including info also on charging/parking location, financing and incentive options and CARB's tough drayage rules. Those rules have created something of a diesel pre-buy among drayage fleets out West who look to secure as many diesels as they can before the end of the year before CARB's deadline to register. Provided the current rule stands, any truck newly registered to run the ports after the first of the year must be a ZEV.
[Related: CARB's aggressive ZEV mandate backfiring at the ports]
TA partners with tech school for diesel, auto tech training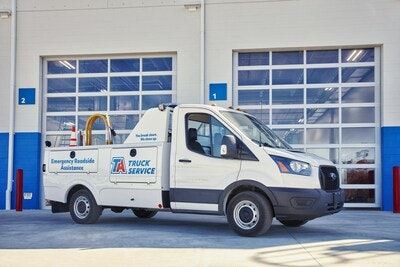 TravelCenters of America and the Universal Technical Institute are collaborating to provide career opportunities for diesel and auto tech students.
As part of the collaboration, students enrolled in UTI's Diesel and Auto Technician Training programs will have the opportunity to apply for positions and start working for the TA Truck Service division while still in school. In addition, TA will offer tuition reimbursement for qualifying employees who have graduated from a UTI program.
Students at UTI campuses in Avondale, Arizona; Rancho Cucamonga, California; Lisle, Illinois; Mooresville, North Carolina; Exton, Pennsylvania; and Dallas and Houston, Texas, are eligible to apply for Early Employment Program (EEP) opportunities, with 17 currently participating TA Truck Service locations.
As part of UTI's EEP, TA will offer current students 20-30 hours of paid work experience and consideration for full-time employment after graduation. TA will offer new-hire bonus payments at both six months and one year of employment and relocation assistance for technicians across the country.
TA Truck Service includes a variety of advanced in-bay services, mobile maintenance and emergency roadside assistance.