Trucking news and briefs for Thursday, Sept. 21, 2023:
Tonnage hauled by trucks mostly flat in August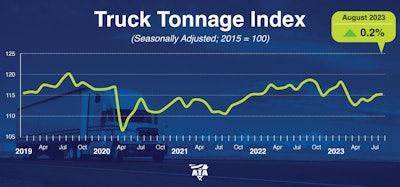 The American Trucking Associations' advanced seasonally adjusted (SA) For-Hire Truck Tonnage Index increased 0.2% in August after rising 1.1% in July. In August, the index equaled 115.3 (2015=100) compared with 115 in July.
"The evidence is growing that tonnage hit bottom in April and continues its slow climb upwards," said ATA Chief Economist Bob Costello. "However, year-over-year comparisons remain difficult as tonnage peaked in September of last year. As a result, it is unlikely that tonnage turns positive compared with a year earlier for at least a month or two longer. Most recently, freight continues to be mixed, with consumer spending and factory output flat to down."
Compared with August 2022, the SA index fell 2.3%, which was the sixth straight year-over-year decrease. In July, the index was down 1.2% from a year earlier.
The not seasonally adjusted index, which represents the change in tonnage actually hauled by fleets before any seasonal adjustment, equaled 120.7 in August, 6.3% above the July level (113.6). ATA's For-Hire Truck Tonnage Index is dominated by contract freight as opposed to spot market freight.
TA partners with tech school for diesel, auto tech training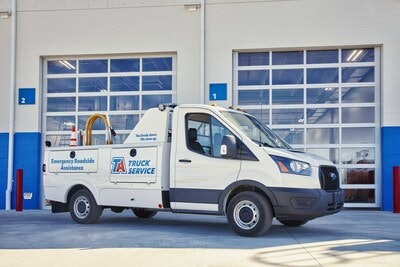 TravelCenters of America and the Universal Technical Institute are collaborating to provide career opportunities for diesel and auto tech students.
As part of the collaboration, students enrolled in UTI's Diesel and Auto Technician Training programs will have the opportunity to apply for positions and start working for the TA Truck Service division while they are still in school. In addition, TA will offer tuition reimbursement for qualifying employees who have graduated from a UTI program.
"We are excited to bring another nationwide partner like TravelCenters of America into the UTI family to provide our students and alumni with opportunities for great careers and future tuition reimbursement," said UTI Division President Tracy Lorenz. "Like UTI, TA has a passion for helping Americans get back on the road through the automotive and diesel services they provide, and we value their support in helping our students get even more real-world experience."
Students at UTI campuses in Avondale, Arizona; Rancho Cucamonga, California; Lisle, Illinois; Mooresville, North Carolina; Exton, Pennsylvania; and Dallas and Houston, Texas, are eligible to apply for Early Employment Program (EEP) opportunities, with 17 currently participating TA Truck Service locations.
As part of UTI's EEP, TA will offer current students 20-30 hours of paid work experience and consideration for full-time employment after graduation. TA will offer new-hire bonus payments at both six months and one year of employment and relocation assistance for technicians across the country.
"We are proud to offer unique ways to attract new talent to TA Truck Service, known for being among the best in the industry for truck maintenance and repair," said Brian Lukavich, SVP, TA Truck Service. "We are excited to welcome new technicians to TA and look forward to providing them with a meaningful career with plenty of growth opportunities."
TA Truck Service includes a variety of advanced in-bay services, Mobile Maintenance and Emergency Roadside Assistance.
FTR plans October webinar for update on food industry transportation
FTR and the Food Shippers of America (FSA) will host a collaborative webinar on Oct. 17 at 2 p.m. Eastern to present their Q4 2023 Food Industry Economic and Transportation Update. This is a complimentary webinar, but registration is required to attend.
During the session, FTR's industry experts will delve into the pressing issues affecting the food shipping sector and provide actionable intelligence to help shippers and carriers navigate them.
The webinar will address the current state, and future outlook of:
Ton-miles for major food-related commodities over time
Food-related truck loading forecasts
Key issues in trucking capacity, utilization, and driver hiring metrics
Truck and Trailer Equipment Production Analysis
Exclusive rate forecasts
The session will be moderated by Paul Newbourne, executive director of FSA, with FTR's Eric Starks and Avery Vise joining the discussion.
Registrants will also receive a complimentary FTR Shippers Update report.