Trucking news and briefs for Monday, Sept. 18, 2023:
Driver busted with $1M in marijuana in sleeper in Tennessee
The West Tennessee Drug Task Force last week caught a truck driver with more than $1 million worth of marijuana in the sleeper berth of their truck, police said.
According to a task force Facebook post, agents with the task force's interdiction unit out of Memphis conducted a traffic stop on an 18-wheeler on I-40 late on Tuesday, Sept. 12.
A probable cause and consent search of the truck revealed U-Hual boxes "nearly filling the entire sleeper containing 307 pounds of marijuana" with a street value of approximately $1,075,000, police said.
The marijuana was seized and the driver was arrested.
Two Paccar recalls affect nearly 900 units
A potential issue that could cause the remote Stage 2 fuel filter hoses in approximately 871 Kenworth and Peterbilt trucks has prompted a recall, according to National Highway Traffic Safety Administration documents.
The recall stems from a Cummins recall affecting the company's L9 medium-duty engines.
Affected units include model year 2023-'24 Kenworth T280, T380 and T480 models, and Peterbilt 536, 537 and 548 models.
The recall said the hoses may have been damaged during production, allowing the hoses to leak or disconnect. A disconnected hose will result in an engine stall, increasing the risk of a crash, and a fuel leak in the presence of an ignition source increases the risk of a fire, the recall added.
Dealers will replace both hoses, free of charge. Owner notification letters are expected to be mailed Nov. 4. Owners can contact Kenworth's customer service at 425-828-5888 with recall number 23KWF and Peterbilt's customer service at 940-591-4220 with recall number 23PBF. NHTSA's recall number is 23V-617.
A separate Paccar recall affects a small number of model year 2023 Kenworth K270 and K370 and Peterbilt 220 trucks. The driveshafts in the affected trucks can break under certain loading conditions.
The recall stems from a Dana-Spicer recall resulting from certain driveshafts manufactured with components supplied to Dana with non-conforming material from two specific production lots. 
Dealers will replace the driveshafts, free of charge. Owner notification letters are expected to be mailed Nov. 4. Owners can contact Kenworth's customer service with recall number 23KWG and Peterbilt's customer service with recall number 23PBG. NHTSA's recall number is 23V-616.  
Estes brokerage expanding with acquisition
Estes Forwarding Worldwide (EFW), a domestic and international freight forwarder and logistics company and a subsidiary of Estes Express, announced Sept. 14 it plans to acquire Superior Brokerage Services (SBS), a Minneapolis-based, single-sourced supply chain company specializing in domestic and international transportation, U.S. customs brokerage services and warehousing. 
EFW, which is celebrating 20 years of business this month, expects the acquisition to double its annual revenue. The deal will include SBS of Asia, giving EFW a footprint in the region and control tower in Taiwan. This supports the growth of EFW's international services into new markets, increases international capacity and allows it to engage much deeper into the supply chain, ultimately leading to better end-to-end solutions for U.S. customers, the company said.
"SBS has built a tremendous reputation in our industry," said Scott Fisher, EFW CEO. "We complement each other's business very well with very little overlap, and together, we'll prove to be more agile in servicing our customers, both internationally and domestically." 
Paul Goff, founder and president of SBS, will stay on with EFW as Executive Vice President, and Fisher will continue to lead the combined companies. The acquisition is expected to close at the end of October and increases EFW from 750 employees to more than 1,100, with hiring ongoing over the next few months. 
[Related: J.B. Hunt to acquire BNSF's brokerage business]
Driver named Highway Angel for helping fellow trucker after crash
David Williams, a truck driver based in Yadkinville, North Carolina, has been named a Highway Angel by the Truckload Carriers Association for stopping to help rescue a fellow driver when he crashed his truck and was trapped inside. Williams drives for ABF Freight.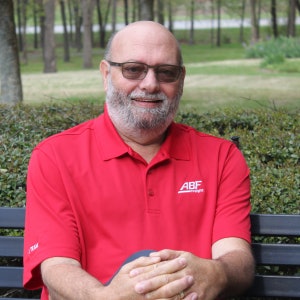 On July 12, Williams was driving northbound on I-77 toward Princeton, West Virginia, around 7:27 a.m. As he approached a curve, a tractor-trailer traveling southbound lost control and proceeded to flip the truck into the median.
"I was able to get stopped and stop the traffic, and (the crashed truck) stayed in the median," Williams said. "I took off running after I got the traffic stopped on the interstate. The guy was screaming 'I need to get out of here!' and I said, 'just hold on, take it easy, we're here to help you.'"
Williams and several other passersby were able to pull the pinned and injured driver through the broken windshield. A motorcyclist driving by stopped and told them he saw fire coming from the truck. While Williams cared for the injured crash victim, he gave the motorcyclist a fire extinguisher to put out any flames and waited for the emergency officials to arrive.
A former EMT and firefighter for 17 years, Williams said that he never hesitated to stop and help.
"This is just in my blood," he said. "I can't just let something like that go by me if I can do something to help someone else."
[Related: 'Highway Angel' honor revoked: Driver did not rescue 'kids in cages' from human smugglers]