Trucking news and briefs for Wednesday, Sept. 20, 2023:
Teamsters hold rallies urging Gov. Newsom to sign CA autonomous truck bill
The International Brotherhood of Teamsters on Monday, Sept. 18 rallied in Los Angeles with California elected officials, labor allies and public safety leaders to demand Gov. Gavin Newsom sign California Assembly Bill 316 into law.
The Teamster-backed bill passed the California legislature with bipartisan support, and would require a trained human operator in autonomous vehicles weighing more than 10,000 pounds, an approach to autonomous trucks endorsed also by a majority of owner-operators. The bill passed its penultimate hurdle on Sept. 11, being passed by the state Senate. Now, Gov. Newsom has until Oct. 14 to sign the bill into law.
A recording of Monday's Teamsters rally can be viewed here. At the rally in Los Angeles, Teamsters Western Region International Vice President Lindsay Dougherty and Teamsters International Vice President At-Large Chris Griswold called on Newsom to prioritize safety and put hundreds of thousands of jobs before the interests of Big Tech. 
"Gov. Newsom has got to stand up for working people and do the right thing here. If Gov. Newsom fails in the simplest of tasks and does not sign AB 316 into law, the International Brotherhood of Teamsters will never let him forget it," Dougherty said. 
[Related: Will autonomous trucks displace drivers? Congress holds hearing on impacts]
Griswold noted that the bill "sailed through the California legislature with overwhelming bipartisan support," adding that "a new public poll shows that more than three-quarters of California voters support AB 316. So with all this support, why isn't Gov. Newsom signing AB 316?" 
Following the rally Monday, a caravan of Teamster truck drivers began their drive to Sacramento where, on Tuesday, Teamsters General President Sean M. O'Brien joined the caravan for a rally and march at the State Capitol to directly call on Newsom to sign the bill into law. Tuesday's rally in Sacramento can be seen here.
The Governor's Office of Business and Economic Development recently voiced opposition to AB 316 via an agency letter, indicating that top officials in the Newsom administration don't want him to sign the bill.
The Autonomous Vehicle Industry Association (AVIA) has also voiced opposition to the legislation.
[Related: California driverless vehicle ban heads to governor's desk]
Tonnage hauled by trucks mostly flat in August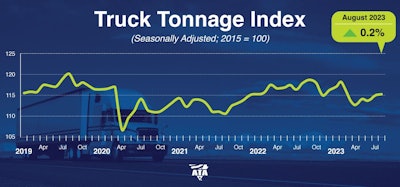 The American Trucking Associations' advanced seasonally adjusted (SA) For-Hire Truck Tonnage Index increased 0.2% in August after rising 1.1% in July. In August, the index equaled 115.3 (2015=100) compared with 115 in July.
"The evidence is growing that tonnage hit bottom in April and continues its slow climb upwards," said ATA Chief Economist Bob Costello. "However, year-over-year comparisons remain difficult as tonnage peaked in September of last year. As a result, it is unlikely that tonnage turns positive compared with a year earlier for at least a month or two longer. Most recently, freight continues to be mixed, with consumer spending and factory output flat to down."
Compared with August 2022, the SA index fell 2.3%, which was the sixth straight year-over-year decrease. In July, the index was down 1.2% from a year earlier.
The not seasonally adjusted index, which represents the change in tonnage actually hauled by fleets before any seasonal adjustment, equaled 120.7 in August, 6.3% above the July level (113.6). ATA's For-Hire Truck Tonnage Index is dominated by contract freight as opposed to spot market freight.
[Related: Diesel prices jump to new 2023 high | Another MaxxForce lawsuit settled]
FTR plans October webinar for update on food industry transportation
FTR and the Food Shippers of America (FSA) will host a collaborative webinar on Oct. 17 at 2 p.m. Eastern to present their Q4 2023 Food Industry Economic and Transportation Update. This is a complimentary webinar, but registration is required to attend.
During the session, FTR's industry experts will delve into the pressing issues affecting the food shipping sector and provide actionable intelligence to help shippers and carriers navigate them.
The webinar will address the current state, and future outlook of:
Ton-miles for major food-related commodities over time
Food-related truck loading forecasts
Key issues in trucking capacity, utilization, and driver hiring metrics
Truck and Trailer Equipment Production Analysis
Exclusive rate forecasts
The session will be moderated by Paul Newbourne, executive director of FSA, with FTR's Eric Starks and Avery Vise joining the discussion.
Registrants will also receive a complimentary FTR Shippers Update report. 
[Related: Spot market at bottom, contract expected to continue down: FTR]