Measure twice and cut once may be an old carpenters idiom but it's message – the importance of planning and detail – also lies at the root of vehcile electrification, according to a study by National Grid and Hitachi Energy.
The study, "The Road to Transportation Decarbonization: Readying the Grid for Electric Fleets," builds on a 2021 collaborative study conducted by the two companies and emphasizes the need for proactive planning and strategic investment to ensure the grid is primed for electrification of medium and heavy-duty vehicles (MHDVs) like buses, trucks, and vans. The latest study provides insight into what is needed from utilities and external stakeholders, including state and local government, businesses, and communities, as electrification of fleet vehicles ramps up in the coming years.  
"Since we formed our partnership and released our first study together, the pace of fleet electrification has only accelerated," said Reihaneh Irani-Famili, Vice President of Clean Energy Development at National Grid New England. "As the grid is called upon to power transit agencies, school buses, and local businesses, we will be in a race to ensure we have a smarter, stronger, cleaner grid and infrastructure so that we can be ready ahead of need. This case study further demonstrates how an optimized, proactive approach to infrastructure planning can help us accelerate early adoption and pave the road for continued MHDV electrification, which will benefit communities and commerce and protect our shared climate."
While the 2021 study evaluated total electric load growth associated with the electrification of over 50 fleets in one city in National Grid's service area in the Northeast, the new 52=page study provides a zoomed-in view of electrification's impacts on a specific community. "Readying the Grid for Electric Fleets" puts readers in the shoes of a utility planner seeking to accommodate charging growth from over 400 electric trucks on one lightly utilized distribution line.
By focusing on this case study line, or feeder, the analysis from National Grid and Hitachi Energy provides valuable snapshots of how the phased introduction of electric vehicles will impact grid infrastructure over time. The study reveals that when just 10% of current MHDVs electrify, peak electric demand on the case study feeder will nearly double. When one-third of MHDVs electrify, the line will exceed its rating and utility solutions will be required to enable further electrification. And where those solutions are located, the report said, is going to matter. 
"Furthermore… 5% of total electricity is lost to the internal resistance of the line (lost as heat)," the report says. "This implies that it is better to locate large fleet loads closer to substations to reduce impacts from line losses and voltage drops and could be a consideration for fleets in their planning."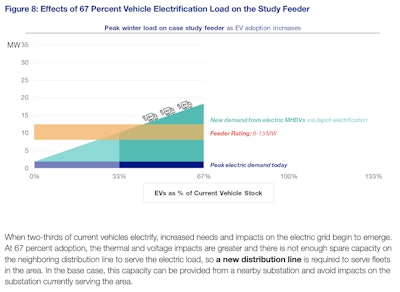 The study demonstrates how three different infrastructure strategies – electric network reconfiguration, multi-value grid infrastructure upgrades, and non-wires solutions – can meet the identified needs. The case study feeder is what the study identifies as an "Area of Capacity" since it has more headroom than 75% of the distribution lines in National Grid's territory. It can accommodate substantial MHDV charging load without major upgrades. Other "Areas of Need" will have grid headroom constraints or contingency requirements, and the three grid infrastructure strategies allow readers to apply study insights to these areas.
"Smarter planning and investments today, guided by close collaboration across the EV ecosystem, will help us avoid painful capacity challenges down the road," said Anthony Allard, Executive VP and Head of North America, Hitachi Energy. "This work can provide a roadmap for smoother electric MHDV adoption." 
The study indicates that, to maximize efficiency and reduce costs, utilities should consider each location's near- and long-term needs and existing capacity on the grid. In doing so, utilities can support early electrification in Areas of Capacity with minimal cost while targeting investment to Areas of Need, ensuring no community is left behind.
The study calls for a coordinated response including utilities, regulators, businesses, communities, and others to meet the forthcoming challenges. The study suggests that regulatory and planning structures must evolve to accommodate MHDV electrification, and new partnerships must arise to support the electrification journey.
National Grid recently submitted a Future Grid plan in Massachusetts to implement wide scale upgrades in the state that would improve network infrastructure, implement new technology and platforms, and install new customer programs to provide more customer choice and control. The Future Grid plan is intended to upgrade the grid to enable, among other benefits, the ability to charge 1.1 million EVs by 2030. In New York, National Grid is active in a new regulatory proceeding established to address the grid demands of MHDV charging. In both states, National Grid supports its customers in installing EV charging through make-ready incentives, fleet assessments, and rate options.