Gone are the days of bringing drivers en masse to safety meetings or training sessions where every driver, no matter their safety record, gets the same spiel. At least that's the case for carriers that are embracing modern technology to instead give greater focus on each individual driver.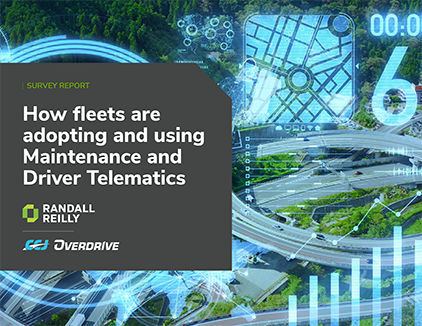 How are fleets and owner-operators using telematics? Find out with this comprehensive research from the editors at CCJ.
Download to access insights on what telematics solutions fleets/owner-operators are using, how telematics influences business decisions and more.
The landscape of driver coaching and training has changed, said Karen Smercheck, president at Veriha Trucking, during a recent Truckload Carriers Association webinar on streamlining driver performance coaching. And with accidents and oftentimes resulting nuclear verdicts on the rise, it's becoming more important to embrace the technologies that support and prove a safety-centric culture.
"Every time those tires hit a public roadway, you're taking a risk. Could you defend this driver on a witness stand? Because if you couldn't, then they shouldn't be behind the wheel," Smercheck said. "That's how we're looking at it. But I think the other piece when we talk about fleet liability is 'Are those drivers coachable and do we see them improving?'"
Veriha is what Smercheck calls a "training fleet." The company has invested in road- and driver-facing cameras – or event recorders, as she prefers to call them – with artificial intelligence that provides audible alerts when a driver is on their phone or driving too fast or too close, for example.
Smercheck said she likes that the technology serves more as a reminder than a scold because humans need to be reminded more often than reprimanded. And Adam Kahn, Chief business development officer at Netradyne, said those types of alerts can help a driver change risky behavior in the moment, rather than waiting until they're back at the terminal for a face-to-face with the safety manager, making the coaching more effective and taking some of the stress off the safety team.
Not only does it help alleviate stress by taking some of the coaching off their hands but also by helping to prevent accidents that could cause even worse headaches. He said most fleets make the decision to invest in technology based on experienced pain like a lawsuit, for example, rather than getting in front of it.
"Traditionally, you had the opportunity to get all your drivers together. A fleet that has vehicles spread across multiple states and revenue opportunities that carry those drivers out for days, sometimes it's very challenging to get drivers inside a building to have a conversation," Kahn said. "So the traditional model of maybe a monthly safety meeting or quarterly safety meeting, those are starting the new ask, which is how do you engage drivers on a much more frequent basis to defend and enforce your safety culture."
Smercheck's team sends out weekly videos to drivers with self-coaching modules based on their specific needs, and team members keep a check on who is and isn't opening the videos. AI shows when things are going right and when they're going wrong, and drivers receive either positive recognition or constructive feedback, she said.
And how they handle it tells Smercheck all she needs to know about whether they're a good fit to be behind the wheel of a Veriha truck.
"Being coachable is one of the attributes that we look for in hiring drivers because regardless of whether you're in the office, the shop, or behind the wheel, we realize that we all need to get better every single day. So we're pretty up front that you're going to get feedback from us and that we need you to take action on the feedback you get," she said. "We do know that because you're out with the motoring public, you may have that incident, and that's why we have this coaching setup because we know that we're humans and we have human error. Show me that you're coachable."
Getting drivers on board
Smercheck said while she loves technology and is embracing it to eliminate unnecessary human labor, she realizes many companies fear technology not only for what it does but also for how much it costs.
Register today for "Maxmizing Driver Potential" webinar
Invest in drivers and they'll invest in you. This webinar will cover proven ways to keep drivers engaged and loyal using driver feedback, improving drivers' efficiency and workflow, and innovative pay models. This CCJ webinar is sponsored by Bestpass.
She advises fleets to invest in bits and pieces at a time in areas where they need help – and one of those areas is safety.
"Our strategy is I want humans doing human tasks, and I want technology helping me with more of those administrative, robotic-type tasks. Then, with that technology, is a human driver behind the wheel; I'm investing in the technology to support the human if they have that error," she said. "There are pieces in your tractor that you can invest in on that coaching side."
But pushback is inevitable.
She said ask drivers to give it 60 days. In her experience, she said the drivers come to find the technology beneficial, like when the active braking systems responds faster than they could have when someone cuts them off in traffic. It's also important to note that the cameras only record if it recognizes an event like hard braking, for instance. When the driver is off duty, so is the camera, Smercheck said.
"I'm not saying that you're going to get there immediately, but I have so many testimonies of individuals that initially dug their heels in a bit that now they're your biggest fans and telling drivers how much the camera in the truck exonerated them or how it has turned them into being a safer driver," she said.
Using the Netradyne system, Veriha recognizes its top 10 safest drivers with the most miles driven on a monthly basis.
When Kahn asked an early Netradyne customer if they knew who their 10 best drivers were, the response was that they knew who their 10 worst drivers were. Kahn challenged him to find his best drivers and use envy and goal setting as a tool to raise scores across the board. He said drivers want to know how they stack up against others and how they stack up against their own goals.
Veriha has gamified the process so drivers have fun competing against each other for the best scores, Smercheck said.
But it's important to not bog drivers down with too much data because when they're overloaded, she said they start to ignore the coaching. She said fleets need to identify specific areas for improvement based on an individual driver.
"There are so many different pieces of driving," she said. "Narrow it down into what needs their attention versus pushing your entire safety program … of A to Z on every single driver. Here's your weakness, and here's what we're going to do to address your weakness, versus saying every driver needs to do the same thing."
One thing she always tries to do is find something – improved fuel efficiency or idle time, for instance – to celebrate with each driver when she delivers constructive feedback; then she gives them space to act on that feedback.
"I feel like the hardest part of being a leader is giving people the space they need, so once you give them the direction, give them the space to actually execute on it," she said.