Over the last 130 years, more than 32,000 machines have been produced at the former Bucyrus Steam Shovel and Dredge Company manufacturing facility in South Milwaukee.
When the plant opened in 1893 to improve and expand Bucyrus Steam Shovel and Dredge Company's production facilities, there were only 44 states in the union., Grover Cleveland was president, and college basketball was holding its first official game.
Since acquiring Bucyrus in 2011, Caterpillar has produced more than 200 of its 120-tonne (134.4-ton) capacity electric rope shovel models at the plant, initially under the Bucyrus name and now as Caterpillar. 
"We are proud of our long heritage in South Milwaukee, the impact the equipment produced at this location has had on the global market over the last 130 years, and the talented and dedicated team continuing the tradition of excellence in the production and support of Cat electric rope shovels and draglines," says Jeremy Niedens, facility manager South Milwaukee for Caterpillar.
Digging into history
Machines produced at the South Milwaukee plant have been part of some historic excavations, including the California Gold Rush; New York State's barge canal enlargement project, the largest U.S. earthmoving project between 1902 and 1912; and the Panama Canal.
According to company records, a total of 77 Bucyrus 40- to 50-ton steam-powered shovels produced at the Milwaukee facility were used to dig the Panama Canal. 
When combined with the shovels produced by Marion Steam Shovel Company, a Bucyrus heritage company, 101 of the 102 shovels used to dig the canal were from Bucyrus. 
World War II saw unprecedented demand for excavators in Europe, and virtually 100% of the company's entire output from 1942 to 1945 was devoted to the war effort. Post-war, the company embarked on a $2 million project to increase plant capacity by 20%. By the middle of the 20th century, Bucyrus was a global company with an expanded product offering. More than 74,000 Bucyrus machines had been produced and used in over 166 countries.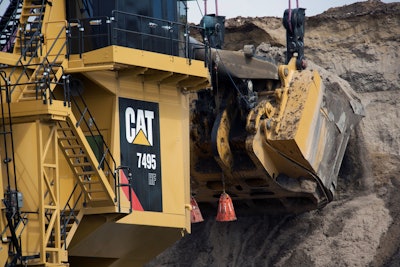 It's electric
By today's standards, those early models would not be described as mobile, being pushed on rails or rollers. The manual process to move the machines was extremely inefficient. 
A series of early innovations originating from Bucyrus' South Milwaukee facility is attributed to helping improve rope shovel efficiency and durability. 
Borrowing Caterpillar's technology of the 1920s, the steam-powered shovels adopted track-style rotating belts to significantly increase mobility. Before the 1930s, the entire rope shovel structure was riveted, but those rivets were replaced by welds to improve durability.
Using a DC system, Bucyrus also pioneered the use of electricity as a power source as early as 1917. A transition from steam power to electricity was completed by 1939.
"As today's mining industry increases its focus on the electrification of equipment to reduce carbon emissions and boost efficiency, Caterpillar is proud to be the leader in a product that has been electrified for several decades," says Flor Rivas, Cat product value stream manager. 
Ultimately, revolutionizing the market for Bucyrus and the industry, machine design transitioned to the less complicated and longer-lasting AC electric motors.
"The introduction of insulated gate bipolar transistor (IGBT) fuseless technology led to the evolution into digital gate turnoff (GTO) systems," says Mike Haws, technical steward for Cat Electric Rope Shovels. "A partnership with Siemens in the 1970s put Bucyrus on the cutting edge of AC drive technology, pushing drive system availability upward to 99%."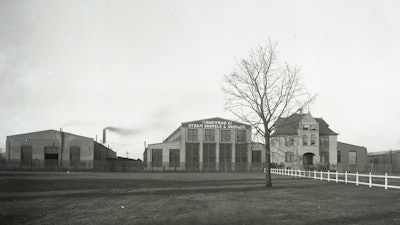 Cat connection
Not long after the acquisition in 2011, Cat introduced a liquid-cooled motion regulator cabinet shortly after the acquisition to more efficiently dissipate the heat generated by electrical components.
This enabled the global product to reliably operate in extreme temperatures ranging from -40˚ C/F to 50˚ C (120˚ F) and at altitudes reaching 5250 m (17,220 ft) without derating. The company also introduced a faster propel transfer switch to cut lag time by 70%, improving productivity.
After conducting an extensive study of the habits of operators of varying skill levels, Cat unveiled Operator Assist – Enhanced Motion Control in 2016 for the Cat 7495. 
The software provided machine protection and simplified operation. Protecting the dipper, the software automatically limited swing forces when the operator attempted to swing the dipper through the bank. It also safeguarded the crowd ropes and brakes, and it prevented boom jacking situations to improve machine cycle times and productivity. 
New technologies continue to be introduced today to improve efficiencies and reduce costs.
This year, Cat launched two new technology packages for ERS models – the Integrated Technology Package (ITP) and the latest Operator Assist Package (OA). 
Eliminating the need for additional in-cab displays from one-off tech packages, ITP, and its modules serve as the foundation for launching current and future technologies. It also provides seamless integration and quicker installation of Cat MineStar Solutions' operational technologies that help to track, monitor, and manage the shovel. 
Also, the latest operator assist package offers more advanced machine protection and operating simplicity. It features a LiDAR vision system—like the technology found on autonomous mining trucks—to scan the front of the shovel, helping to avoid accidental collisions between the dipper and the machine. 
According to Cat, the average lifespan of a Cat 7495 is 20 years, with the machines working in some of the harshest operating conditions such as subfreezing oil sands of Canada to the arid Chilean deserts where average annual rainfall is less than an inch.
From 1990 to 2022, roughly 237 machines – both Bucyrus 495 and Cat 7495 series – have moved more than 105 billion tonnes of material. 
For context, if this quantity were moved by the 364-tonne Cat 797 mining truck, it would have resulted in 290.1 million truckloads and have taken over 13.9 million hours to complete, given a 2.88-minute cycle and truck spotting time.