Saudia is set to become the first operator at the new Red Sea international airport when it opens later this year.
The airport lies around 500km north of Jeddah, on the Red Sea coast, is part of an ambitious resort development for the kingdom's Vision 2030 strategy.
Under a newly-signed memorandum of understanding Saudia will be the first airline to serve the facility, which will initially host scheduled domestic flights from Riyadh and then Jeddah.
Red Sea airport will introduce international flights in 2024.
The facility has been developed by Red Sea Global and is managed by Irish airports operator DAA International, both parties to the Saudia agreement.
Red Sea Global says the pact also enables the three companies to carry out joint research on low-carbon and sustainable aviation fuel at the airport, as well as an evaluation of access for electric VTOL aircraft.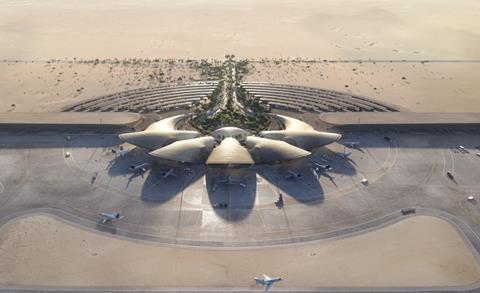 "Our involvement as the first airline to operate from and to Red Sea international airport is a source of pride for us all," says Saudia chief Ibrahim Koshy.
"This agreement will strengthen our position in the kingdom and allow us to collaborate with Red Sea Global and DAA International to boost tourism and enhance the country's standing within international aviation."
Along with the first phase of Red Sea airport, three of a planned 50 resort projects will open this year as part of the development. Once complete in 2030 the resort will offer up to 8,000 hotel rooms and over 1,000 residential properties spanning 22 islands and six inland locations – plus marinas, leisure and sports facilities.
Red Sea Global group chief John Pagano says the opening of services from the airport will be a "milestone moment" for Saudi Arabia, adding: "It is fitting, therefore, that the kingdom's flag-carrier, Saudia, will be first to operate from our destination."