After working for nearly two years as chief financial officer of US regional carrier Mesa Airlines, Daniel Torque Zubeck is resigning from the company effective 15 September. 
Parent company Mesa Air Group disclosed Zubeck's departure in a 13 September filing with the US Securities and Exchange Commission, adding that Michael Lotz – currently the company's president – will fill the CFO position on an interim basis.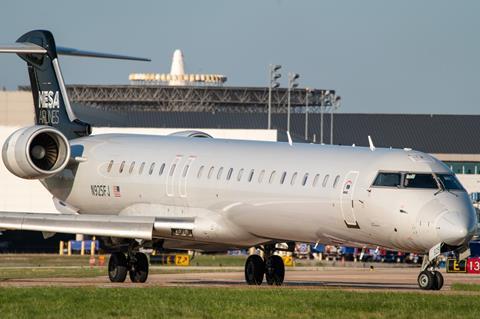 "His resignation was not the result of any disagreement with the company on any matter relating to the company's financial statements, internal controls, operations, policies or practices," Mesa says of Zubeck's departure. 
Prior to taking on the role of Mesa's CFO, Zubeck had worked with the company since February 2021 as senior vice-president of finance. Prior to that, he had had an 18-year career with Alaska Airlines, including time as director of financial planning and analysis and working for nearly 18 months as managing director of Alaska Air Cargo. 
Lotz has been president of Mesa since 2000 and worked as CFO from June 2008 through September 2021, the airline says. 
Phoenix-based Mesa has been navigating a turbulent transition away from flying on behalf of former mainline partner American Airlines. 
Mesa cut ties with American in December 2022 and entered a five-year capacity purchase agreement with United Airlines shortly afterwards. The regional carrier has since worked to transition its Bombardier CRJ-900s to United and has ceased operating under the American Eagle brand.
During its most recent earnings call on 9 August, Mesa Air Group reported losing $47.6 million during its fiscal third quarter, with the airline's block hours plummeting during its transition period. 
That compares with a $10 million loss during the same period the year before.