Trucking news and briefs for Friday, Sept. 15, 2023:
FMCSA removes two ELDs from device registry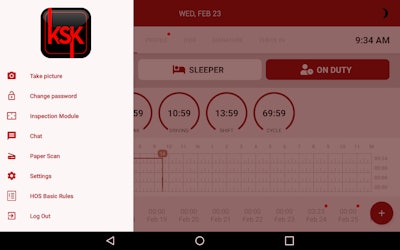 The Federal Motor Carrier Safety Administration announced Thursday it has removed Falcon ELD and KSK ELD from its list of registered Electronic Logging Devices.
FMCSA said it placed these ELDs on the Revoked Devices list due to the providers' failure to meet the minimum requirements established in 49 CFR part 395, subpart B, appendix A (functional specifications for ELDs), effective Sept. 14.
KSK ELD said in an email to CCJ that the revocation is "an FMCSA mistake" and that the company will provide updates "as soon as [the] situation will be cleared."
Falcon ELD has yet to respond to a request for comment as of 3 p.m. Central time Thursday.
FMCSA will send an industry email to inform motor carriers that all who use these revoked ELDs must stop using the revoked devices and revert to paper logs or logging software to record HOS data, and replace the ELDs with compliant devices from the Registered Devices list before Nov. 13, 2023.
Motor carriers have up to 60 days to replace the revoked ELDs with compliant ELDs. If the ELD providers correct all identified deficiencies, FMCSA will place the ELDs back on the list of registered devices and inform the industry and the field.
"FMCSA strongly encourages motor carriers to take the actions listed above now to avoid compliance issues in the event that the deficiencies are not addressed in time," the agency said.
During this time, safety officials are encouraged by FMCSA not to cite drivers using the revoked ELDs for 395.8(a)(1) – "No record of duty status" or 395.22(a) – "Failing to use a registered ELD." Officers should instead request the driver's paper logs, logging software, or use the ELD display as a back-up method to review the hours-of-service data.
Beginning Nov. 13, motor carriers who continue to use the revoked devices will be considered to be operating without an ELD. Safety officials who encounter a driver using a revoked device on or after Nov. 13should cite 395.8(a)(1), and place the driver out-of-service, FMCSA said.
[Related: FMCSA revokes three more ELDs, bringing total to seven this year]
Orange EV intros new electric truck for port operations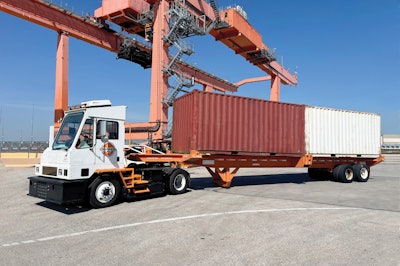 Orange EV, a United States-based manufacturer of electric yard trucks, this week announced its new HUSK-e Series terminal truck.
Beginning production at Orange EV's 400,000 sq. ft. global headquarters in Kansas City, the HUSK-e is purpose-built to handle the demanding needs of port operations, rail and intermodal sites, and other heavier duty applications. 
"The HUSK-e complements the current e-TRIEVER offering from Orange EV by providing customers with THE Big Dog," said Kurt Neutgens, Orange EV president and CTO. "HUSK-e has been designed specifically for port and rail power, torque, and load requirements while continuing to provide the unmatched reliability, drivability, and service that Orange EV has become known for after 8 years of producing and delivering pure electric yard dogs."
The HUSK-e Series provides the power and endurance fleets need while also increasing driver safety and comfort with reduced noise and vibration, no diesel exhaust, no transmission, better visibility, a 50% reduction in stopping distance, and a superior in-cab experience, the company said. Specific performance qualities include: 
Pulling power: The HUSK-e has a GCWR up to 180,000 pounds, pulling the heaviest loads including a bomb cart chassis loaded with full-weight twin 20-foot containers up to 32mph. 
Speed and acceleration: The Husk-E is equipped to handle faster-paced, maximum-load operations at steeper grades, saving valuable time with every move. 
Increased battery capacity: The 243 kWh battery pack delivers the energy needed for long shifts and can fully recharge in approximately two hours by utilizing 105+ kW CCS1 charging. 
Superior battery chemistry: Orange EV utilizes lithium-ion iron phosphate (LFP) batteries to maximize longevity and safety vs. NMC batteries. Designing and building their own battery packs specifically for the yard dog since 2015, Orange EV's 820-plus commercially deployed electric trucks have more than 3.6 million hours of operation, are all operating on their original battery packs, and come with a battery warranty of 7.5 years or 220,000 / 396,000 / 410,000 kWh (specific kWh is dependent on battery pack size).  
Cost savings: Hard savings for fuel and maintenance of over $120,000/year per truck are possible in two shift port operations, the company said. Additional savings are realized through higher uptime, smoother operation, higher productivity, and operator health and safety. 
The HUSK-e Series is ready for orders now, with initial deliveries expected as early as Q4 2023.
[Related: Going yard: Trucking goes electric without hitting the open road]
Southeastern Freight Lines opens new facility in New Orleans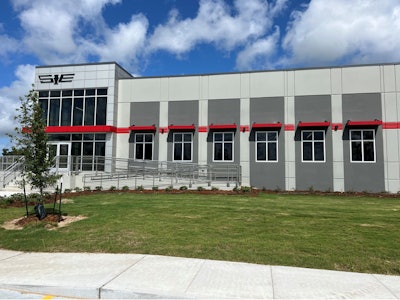 Southeastern Freight Lines (CCJ Top 250, No. 32) this week announced the opening of a relocated service center in New Orleans.  
The contemporary New Orleans service center, located at 588 West Alpha Drive, consists of 120 dock doors and 82 associates. The facility not only supports growth and maximizes Southeastern's service to its customers, but communicates the company's dedication to going the extra mile and providing excellent working environments for its people.
Addtions to the facility include enhanced office and dispatch spaces, new appointment warehouses, a bunkhouse, gym, large breakrooms and a sizeable increase in dock doors. 
"With increasing economic growth in the New Orleans area, this is the perfect time to relocate to a larger service center," said Coley Campbell, senior vice president of operations. "We are excited to provide our current and future employees with a great work environment, while increasing operational efficiencies and timeliness of deliveries. Ultimately, this move allows us to provide Quality Without Question to both our associates and our customers in New Orleans." 
Previously located at 1525 Sams Avenue, the New Orleans service center opened for business in 1996 with 30 dock doors and 20 associates. 
Estes Forwarding Worldwide acquiring brokerage
Estes Forwarding Worldwide (EFW), one of the leading domestic and international freight forwarders and logistics companies in the United States and a subsidiary of Estes (CCJ Top 250, No. 10), announced Sept. 14 it plans to acquire Superior Brokerage Services (SBS), a Minneapolis-based, single-sourced supply chain company specializing in domestic and international transportation, U.S. customs brokerage services and warehousing. 
EFW, which is celebrating 20 years of business this month, expects the acquisition to double its annual revenue. The deal will include SBS of Asia, giving EFW a footprint in the region and control tower in Taiwan. This supports the growth of EFW's international services into new markets, increases international capacity and allows it to engage much deeper into the supply chain, ultimately leading to better end-to-end solutions for U.S. customers.
"SBS has built a tremendous reputation in our industry," said Scott Fisher, CEO of EFW. "We complement each other's business very well with very little overlap, and together, we'll prove to be more agile in servicing our customers, both internationally and domestically." 
Paul Goff, founder and president of SBS, will stay on with EFW as Executive Vice President, and Fisher will continue to lead the combined companies. The acquisition is expected to close at the end of October and increases EFW from 750 employees to more than 1,100, with hiring ongoing over the next few months.