Trucking news and briefs for Thursday, Sept. 14, 2023:
Orange EV intros new electric truck for port operations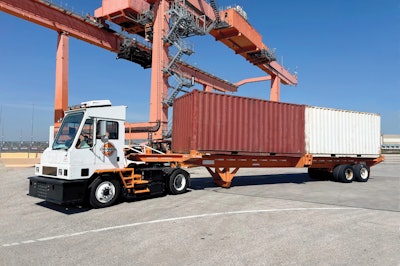 Orange EV, a United States-based manufacturer of electric yard trucks, this week announced its new HUSK-e Series terminal truck geared toward port and intermodal operations.
Beginning production at Orange EV's 400,000 sq. ft. global headquarters in Kansas City, the HUSK-e is purpose-built to handle the demanding needs of port operations, rail and intermodal sites, and other heavier duty applications.
"The HUSK-e complements the current e-TRIEVER offering from Orange EV by providing customers with the Big Dog," said Kurt Neutgens, Orange EV president and CTO. "HUSK-e has been designed specifically for port and rail power, torque and load requirements while continuing to provide the unmatched reliability, drivability, and service that Orange EV has become known for after 8 years of producing and delivering pure electric yard dogs."
The HUSK-e Series also offers driver safety and comfort enhancements, the company said, with reduced noise and vibration, no diesel exhaust, no transmission, better visibility, and a 50% reduction in stopping distance. Specific performance qualities include: 
GCWR up to 180,000 pounds, pulling the heaviest loads including a bomb cart chassis loaded with full-weight twin 20-foot containers up to 32mph. 
Ample speed and acceleration to handle faster-paced, maximum-load operations at steeper grades. 
A 243 kWh battery pack delivers energy and can fully recharge in approximately two hours by utilizing 105+ kW CCS1 charging. 
Lithium-ion iron phosphate (LFP) batteries to maximize longevity/safety vs. NMC batteries, the company said. Designing and building their own battery packs specifically for the yard dog since 2015, Orange EV's 820-plus commercially deployed electric trucks have more than 3.6 million hours of operation, are all operating on their original battery packs, and come with a battery warranty of 7.5 years or 220,000 / 396,000 / 410,000 kWh (specific kWh is dependent on battery pack size).  
Cost savings: Hard savings for fuel and maintenance of over $120,000/year per truck are possible in two-shift port operations, the company said. Additional savings could be realized through better uptime, smoother operation, higher productivity, and operator health and safety. 
The HUSK-e Series is ready for orders now, with initial deliveries expected as early as Q4 2023.
[Related: Surprising ways owner-ops and small fleets might make EVs work]
Sheetz extends diesel discount
Mid-Atlantic convenience store chain Sheetz, which has been offering discounts on diesel fuel and DEF throughout this National Truck Driver Appreciation Week, announced it is extending that offer.
To celebrate the 35th anniversary of NTDAW, Sheetz is offering drivers a 35-cent discount on diesel, as well as DEF at the pump for 99 cents a gallon.
The offer was originally set to end Sept. 16, but it has now extended the discounts through Sept. 30.
J.J. Keller launches new dashcam video review service
Owner-operators and fleets that use dash cameras have a new resource to get the most from their investment — the J.J. Keller Video Review Service.
It offers motor carriers a team of experts to review their dash cam video and extra hands to accomplish safety goals — everything from establishing the optimal hardware settings to determining which risky events to prioritize for monitoring.
"Our service provides support and expertise to keep carriers from getting stuck in the weeds of video event management," said Kevin Krull, Director of Client Success for Technology Solutions at J.J. Keller. "They can focus on their drivers and business while our team works on reviewing footage and supporting fleet safety."
The J. J. Keller Video Review Service offers clients risk mitigation and time savings through:
Review, prioritization and communication of riskiest driving behaviors
Access to J. J. Keller Corrective Action Training
Event scoring using J. J. Keller's best practice processes
Recordkeeping and reporting functions
Driver training recommendations
Establishment and ongoing monitoring of camera and event trigger settings
The new service is available to Encompass Video Event Management System subscribers and VideoProtects Video Event Management System clients on the MyGeotab platform.
[Related: In-cab and out, camera options expand amid push-pull of privacy concern, regulatory attention]
Trucker Path names winner of driver-appreciation sweepstakes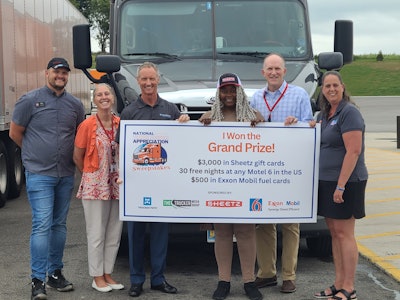 Trucker Path this week announced winners of its second annual National Truck Driver Appreciation (NTDA) Sweepstakes. The sweepstakes were sponsored by Trucker Path, The Trucker Media Group, Sheetz, Motel 6, and ExxonMobil.
The Grand Prize, which included $3,000 in Sheetz gift cards, 30 free nights at any Motel 6 in the U.S. and $500 in Exxon Mobil fuel cards, was won by Angie Moland from Dolton, Illinois. 
The winners of weekly drawings who received a $500 Sheetz gift card, five free nights at any Motel 6 in the U.S. and a $100 Exxon Mobil fuel card were:
Matt T. of Valrico, Florida
Arthur M. of Hopatcong, New Jersey
Arlin H. of Nappanee, Indiana
"Along with our iconic industry sponsor partners we are pleased to award these prizes as a way of saying thanks to drivers for their dedication," said Chris Oliver, CMO at Trucker Path. "Truck drivers are an essential part of the nation's supply chain and are often overlooked. Through the National Truck Driver Appreciation Sweepstakes, we celebrate the importance of these dedicated carriers and show our appreciation for their contributions and hard work."
Active U.S. truck drivers with a valid CDL were eligible to enter the NTDA Sweepstakes. Winners of the weekly and grand prizes were randomly selected by a licensed third-party sweepstakes company.
[Related: Companies honor truckers for national appreciation week: Deals, discounts and more]