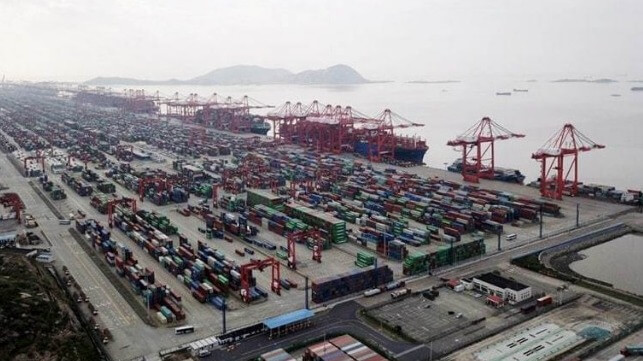 With export volumes coming from Asia already muted or declining, carriers appeared to be working to maintain volumes and wait as long as possible before adjusting their schedule for the upcoming national holiday known as "Golden Week" in China. The major carriers had already been consolidating routes to balance capacity with declining demand but in a last-minute showing ahead of the holiday, they are taking a massive reduction in scheduled capacity.
China's Golden Week holiday begins this year on October 1 running through October 7. Factories are closed and traditionally the impact reaches for up to three weeks following the holiday. This is the third and final weekly holiday of the calendar year in China after the previous weeks around the lunar new year and one that falls in May.
"This year however the carriers have so far not announced any significant capacity reductions," said Alan Murphy, CEO of the data analytics firm Sea-Intelligence. He noted that it seemed unusual that carriers were not scheduling in what is known in the industry as blank sailings, where vessels skip their normal rotations.
Based on their analysis, Sea-Intelligence observed that carriers had not scheduled blank sailings even close to what was required to match the blanked percentages of pre-pandemic years. 
"If we are to compare the current percentage reductions and bring them to the pre-pandemic levels, then to match 2019, 10 to 13 additional sailings will need to blanked on Transpacific and 6 to 10 additional sailings on Asia-Europe," explained Murphy at the end of August.
Now in the second full week of September and just three weeks before the holiday, Sea-Intelligence is highlighting that carriers were late but have taken deep cuts. Reports are that the cuts are coming from many of the major carriers also raising concern about when this capacity might come back to the market.
"Two weeks ago, we effectively saw no Golden Week capacity reductions, as the scheduled capacity was far above what we had seen in the pre-pandemic period," says Murphy. He now highlights, "A massive reduction in scheduled capacity, due to a large number of 'last minute' blank sailings. The percentage of blanked capacity on Asia-North Europe, across the four-week period, is now at 19.9 percent, which is higher than the 2017-2019 period."
Sea-Intelligence calculates that an additional 29 blank sailings have been scheduled on the Transpacific routes, and 18 more on the routes between Asia and Europe. The blanking is coming on all the routes for Asia, including to the North American East and West coasts, as well as to Northern Europe and the Mediterranean.
These cuts come as views vary on the near-term outlook. Many industry analysts have said they expect levels to continue to fall to pre-pandemic levels. The ports of Los Angeles and Long Beach reported rebounds in August versus July but projected a weak peak season. Los Angeles however saw its first year-over-year gains in August, the first in 13 months, a view that was also presented by the National Retail Federation. Looking at the U.S. outlook for retail imports, the trade group presented a slightly more positive outlook saying their analysis showed a plateau with the first year-over-year gains likely and positive momentum for the first month of 2024.