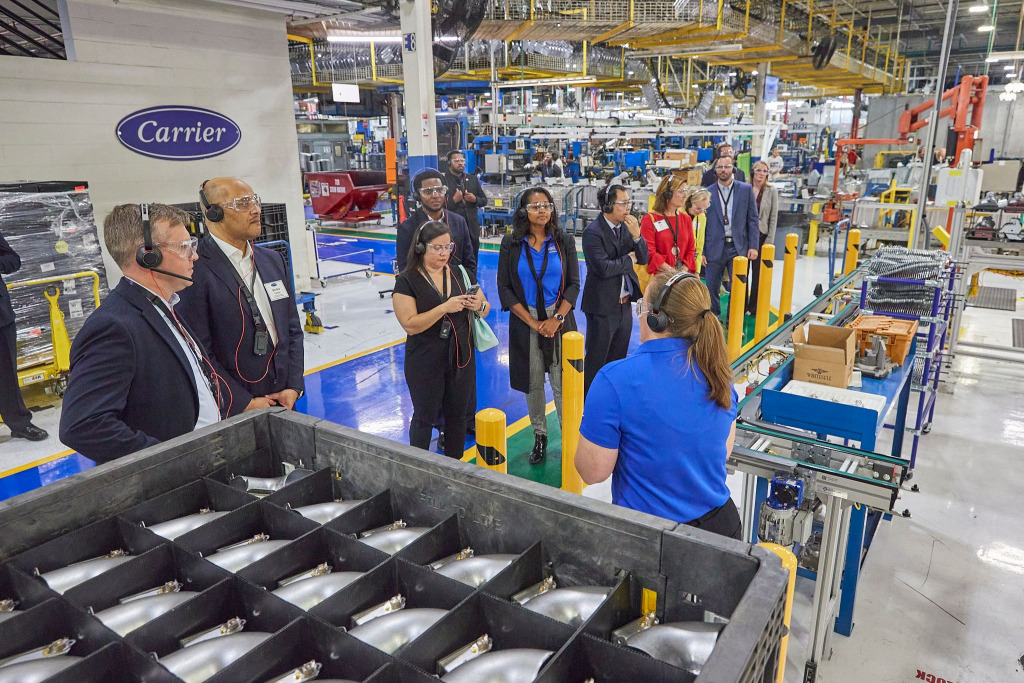 Officials tour Carrier's new training facility in Indianapolis. (Photo courtesy of Carrier)
Carrier, the heating and cooling manufacturer that is part of Florida-based Carrier Global Corp., this week opened a multimillion-dollar training facility in Indianapolis to help ease the looming shortage of HVAC technicians.
The 6,000-square-foot facility is attached to the Carrier's 1,200-employee gas furnace production facility at 7310 W. Morris Street and features six distinct labs featuring 41 fully functional HVAC systems. Those labs will provide training in ducted and ductless systems as well as two-pipe and three-pipe variable refrigerant flow.
The facility is designed to help address the what the industry expects to be a national shortage of 400,000 HVAC technicians by 2033 that would significantly hamper the installation and maintenance of HVAC units across the country.
"The ongoing skilled technician shortage is expected to get worse unless manufacturers take meaningful action to train up the next generation of techs," Nick Arch, Carrier's managing director of residential HVAC. "Providing additional training opportunities in different formats ensures there is a program for everyone interested in the HVAC industry. We look forward to continuing to partner with our network of dealers and distributors on how we can help meet the need faced by so many."
Carrier's existing online HVAC training courses provide an average of 11,000 hours of technical training each year. Company officials estimate the new, in-person technical training center will have the capacity to add additional 30,000 hours of hands-on training annually.
The company said the training will provide opportunities for long-term gainful employment with local HVAC dealers and distributors.