Trucking news and briefs for Monday, Sept. 25, 2023:
Following drivers' rally last week in support of the bill, Newsom strikes down driverless-truck ban anyway
Calif. Gov. Gavin Newsom on Friday, Sept. 22, vetoed California's AB 316, a bill that passed through the state's legislature and would have effectively banned driverless trucks in the state.
The bill would have required trained human operators to be inside an autonomous heavy-duty vehicle while it is operating on public roads in the state.
In vetoing the bill, Newsom said it was "unnecessary for the regulation and oversight of heavy-duty autonomous vehicle technology in California, as existing law provides sufficient authority to create the appropriate regulatory framework."
In 2012, the California legislature provided the Department of Motor Vehicles (DMV) with the authority to regulate the testing and deployment of autonomous vehicles on public roads in California. As part of its oversight and regulatory responsibilities, Newsom said, DMV consults with the California Highway Patrol, the National Highway Traffic Safety Administration, and others with relevant expertise to determine the regulations necessary for the safe operation of autonomous vehicles on public roads.
The California DMV also continuously monitors the testing and operations of autonomous vehicles on California roads and has the authority to suspend or revoke permits as necessary to protect the public's safety, Newsom noted.
Nearly 8 in 10 Overdrive readers, responding to polling earlier this year, signaled support for the kind of approach taken with AB 316, the large majority on basic safety grounds.
The Teamsters Union has also supported the bill, even hosting rallies in Los Angeles and Sacramento last week urging Newsom to sign the bill into law.
The bill had met resistance from the state's technology and autonomous technology stakeholders, many of which are headquartered in California, and Newsom, whose DMV and Office of Business & Economic Development (GO-Biz) raised concerns with the proposed ban.
As a result of his veto, safety experts can continue to evaluate autonomous vehicle technology and consider appropriate regulatory action.
[Related: Teamsters call on Newsom to sign CA bill banning driverless trucks]
San Antonio considering overnight truck parking ban
The city of San Antonio, Texas, is considering joining other "not in my backyard (NIMBY)" cities and banning overnight truck parking on city streets.
According to local news outlet KSAT, the San Antonio City Council will consider a new ordinance to ban truck parking on all non-residential city streets from 2-6 a.m.
State law and local ordinances already prohibit parking in residential areas between 10 p.m. and 6 a.m., and San Antonio has already barred truck owners and drivers from parking in their own front yards or on the curb of a residential property, KSAT noted.
Councilman Manny Pelaez in May 2022 submitted a council consideration request for the non-residential parking ban ordinance. That proposal was presented to the city's Public Safety Committee on Sept. 19, which voted to move the proposal forward to the full council at a future date that's not yet known.
Earlier this year, St. Paul, Minnesota, joined its sister city Minneapolis in banning truck parking in the city. 
[Related: St. Paul, Minnesota, officially bans truck parking]
Driver recognized for helping save motorcyclist from bleeding out after crash
The Truckload Carriers Association (TCA) has named truck driver Patrick "Pat" Grant of Troy, New York, a TCA Highway Angel for stopping to help a severely injured motorcyclist who crashed and was bleeding out. Grant drives for JB Hunt out of Lowell, Arkansas.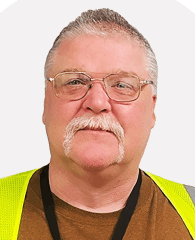 On July 2 around 1 a.m. in Coxsackie, New York, Grant was driving north on the NY State Thruway when a motorcyclist passed him. Grant backed off to allow the driver some additional space, and then he saw the motorcyclist hit a guardrail and fly off his bike.
As Grant approached, the bike was in the left lane and the driver in the breakdown lane. He quickly jumped into action, blocking traffic with his truck, and called 911.
"I saw that he was in really, really bad shape," Grant said. "Basically his arm was twisted up — a big bone was sticking out of his arm. I pretty much got that bleeding stopped, then I looked at the leg; his foot was inside his shoe, just hanging off by the achilles tendon."
His quick and resourceful thinking gave him the idea to grab two phone chargers from his truck. He then ran back to the injured cyclist and applied them as tourniquets to the driver's arm and leg to halt the bleeding until paramedics arrived. Medical professionals who arrived on the scene told Grant that without his quick-thinking, the motorcyclist would likely have bled out.
"I was just trying to do what I could for this gentleman," he said.