With today's smartphone market filled with phones and features that are all too look-alike, the Doogee phone offers a refreshing and uniquely powerful alternative without venturing into more expensive fold and flip innovations-in-progress.
Released earlier this year, the Doogee V30T takes top billing as the company's 5G flagship smartphone. Its trendy design is loaded with awesome internals and features that take this phone up a big notch from the alternatives.
The operative term here is BIG. Built for durability, the Doogee phone features a military-grade enclosure and a protective layer over its Corning Gorilla Glass 5 screen. This phone is a powerhouse with a mid-range price, under $600, that provides a lot of digital bang for your buck.
The phone is listed on the Doogee North America website regularly priced at $579.89 but was on sale at this writing for $489.89. Shop around, though. I found a better sale price over $100 less on the company's Amazon store page.
It is carrier-unlocked and supports both multiple eSIMs and physical SIM cards. It also has expanded storage beyond 256GB via micro-SD cards. Expanded virtual memory pushes the power beyond the hard-wired 12GB RAM.
Big Is So Much Better, Sometimes
Full disclosure: I discovered the Doogee product line and selected the V30T as my own purchase without being offered a review unit.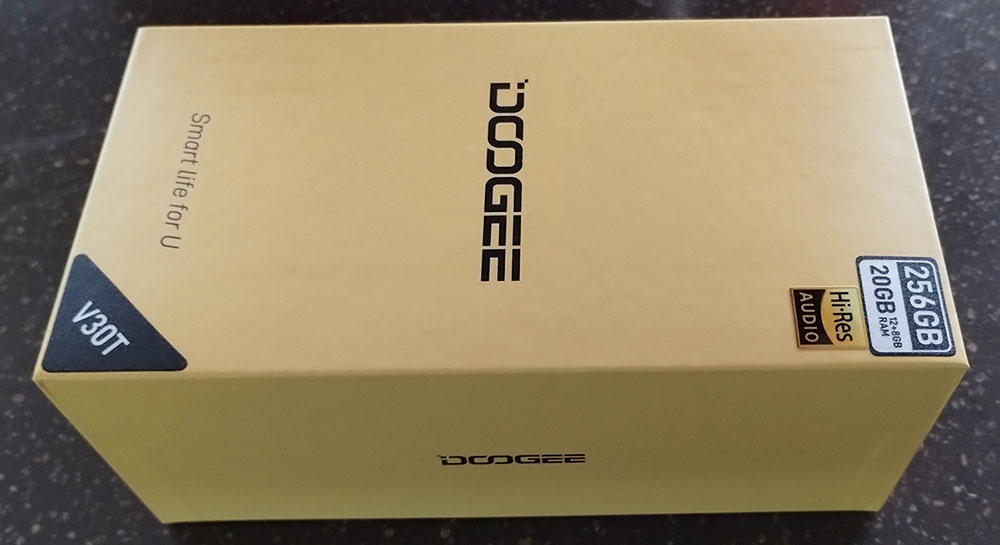 The Doogee V30T phone fills a box that is nearly twice as high and one inch longer than those of standard smartphones. (Photo by Author)
---
I planned to use this phone as my daily driver. However, that plan changed when I discovered that this model does not connect to AT&T's 5G wireless system.
I was a bit uneasy adopting a ruggedized phone design that is a bit heavier than my previous phones. I bought it thinking that I would probably return it because I was curious to try it out.
The new phone is no bulkier than my previous device, snugly wrapped in a third-party rugged screen protector and two-piece heavy-duty protective case. It fits into the same canvas belt case but was too small for the clip-on belt holster I used. Stepping up to better technology often means making a few trade-offs. Be aware that this heavier and bulkier phone may not suit everybody's liking.
Niche Appeal of High-End Rugged Phones
Giving up a lighter-weight, thinner-framed phone was not an easy choice to make. The bulkiness could be tough to overcome for some users. For me, it became more of a tech statement that massively improved my mobile phone prowess.
My job and lifestyle do not exactly make me a candidate for strenuous outdoor survival that needs a rugged phone. However, I was willing to make that adjustment to gain the numerous high-end features not found in standard smartphones.
The 66W fast charging 10800mAh oversized battery reaches 55% capacity in 35 minutes. According to the company, this king-sized power cell provides enough energy for 960 standby hours and 40 hours of continuous music playing.
I get close to three days of non-recharged use with my combined business and personal use. While considerably slower, the 15-watt wireless charging capability adds an extra layer of usability and attractiveness.
If you are in the crowd believing that "thin is in!" then you will miss the rugged beauty and unique features of the Doogee V30T. I tend to favor large phones with bulky protective outer shells, indifferent to the slimness of the device within.
The Rugged Phone Story
Rugged phones are part of a growing industry serviced by some leading phone makers offering a mixed inventory of rugged and thin-framed smartphones. Typical traditional phones today come with glass backs and plastic cases. Both of these materials make phones susceptible to damage if dropped, exposed to harsh environments, or plain clumsiness.
Rugged phones withstand outdoor environments and meet high IP ratings for dust and water resistance. They also undergo military-grade testing for durability and have larger batteries.
Doogee rugged phones are this company's only product line, offering a variety of models with varying feature options. Now part of KVD International Group Limited based in Shenzhen, China, the founding OEM/ODM Doogee smartphone manufacturer opened for business in 2013 in Spain. Doogee North America is a Doogee mobile phone reseller for the United States and Canada markets.
Handholding 101 May Be Needed
The V30T is available on the Doogee U.S. website in black, gray, and rose gold, though only the global version is available.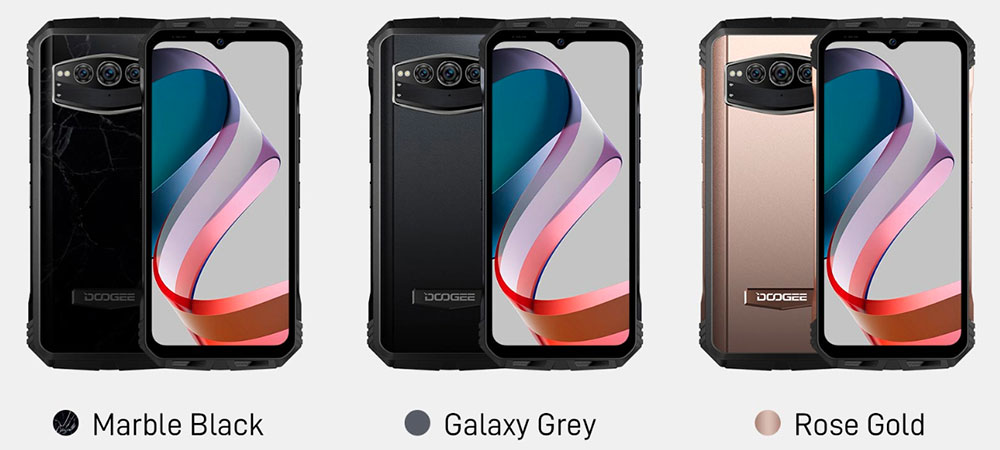 (Image Credit: Doogee)
---
The Amazon Doogee store offers the V30T in gold, black, and silver but does not mention the global version.
The black phone was selling for $458.99 on the Amazon store page versus the other two colors for $431.99. I opted for the gold version, which is absolutely stunning to see and hold.
Holding it does require some dexterity retraining! These phones are encased in metal rather than plastic and glass, which not only resists smudges but also eliminates the need for additional anti-breakage protection.
The right edge holds the power button with a thumbprint sensor. The left edge in the same midway location has a touch-sensitive button you can program for three functions from more than one dozen options.
Learning not to grab and hold the device around the middle can be challenging — failure to adjust launches all sorts of unintended phone responses.
Taking a Tour
The Doogee V30T 2023 5G unlocked smartphone is packed with 20GB RAM and 256GB storage. It has a full HD 6.58-inch screen with dimensions of 6.67 x 3.2 x 0.63 inches.
The phone's high-resolution 108MP main camera has a special underwater mode and a 20MP night vision camera to capture images in low light and darkness conditions. It also has a 16MP wide angle and macro camera.
Some features are not typically found on other smartphones. For instance, this phone is IP68 and IP69K rated, which means the device is water-tight and dustproof, able to withstand washdown at pressures of 80 to 100 bar/1,160 to 1,450 PS at temperatures up to 176°F/80°C.
The V30T has near-field communication (NFC) technology for secure wireless/non-touch transactions. The included fast-charger transformer and cable make maintaining battery juice super-convenient.
An added bonus is the OTG reverse charging capability to charge the phone's battery from other phones or mobile devices. However, no OTG cable is included.
At a glance: the contents of the Doogee big box. (Photo by Author)
---
This phone's speedy gaming-capable Mediatek Dimensity 1080 Octa Core CPU is the newest chip featured in the Doogee phone line. It performs similarly to Qualcomm Snapdragon 778G.
Both 8-core processors reflect 6-nanometer fabrication, a factor of length. According to published benchmark results, the two CPUs provide a highly competitive performance-to-cost advantage that is not entirely different.
Factoring in Other Features
Memory matters when it comes to mobile performance. The V30T comes well equipped with 12GB RAM and a software feature that offers 3, 5, or 8GB more of virtual RAM garnered from unused internal storage.
It supports up to five eSIM phone lines for convenience and low cost while traveling. Outdoor workers and those covering lengthy work sessions will appreciate the sound quality from the two front-facing dual speakers at the top and bottom of the phone.
These two sets of speakers are loud as the sound is not muffled by a cover case or resting surface. However, the sound is a bit tiny when played at upper volume levels. With no socket for earphones, you need to rely on a wireless connection.
Embarking on a New User Experience
Doogee phones lack bloatware. Instead, the phone-maker includes a useful set of system manager tools, SIM tool software apps, and a multi-functional Tool Bag collection of quick productivity aids to supplement the special version of Android 12.
Unlike some big smartphone makers, Doogee does not slap on its own skin overlay to the user interface (UI). What makes this so special is it is literally the purest stock version of Android to grace any phone I have used.
Rather than the usual punch hole notch for the camera lens placed in the top center of the screen, Doogee uses the teardrop-shaped notch. Either way, the effect is cosmetic rather than functional. However, Doogee adapted the UI.
For instance, you can pull down from the left side of the screen to interact with a list of notifications. Pulling down on the right side of the screen displays a full-screen view of quick access icons to essential system functions. You can also configure the contents to your needs.
Click/Tap to Expand
In the UI process, Doogee removed the search bar that usually lets you find specific installed apps. So, I had to scroll through some five or six screens of icons to find what I wanted. I solved that issue by placing related apps into the same icon folder on the home screen.
That home screen design let me locate desired apps quickly and reduced the number of screens showing apps.
Bottom Line
I used the phone locally for several weeks without connection issues. Then I discovered I had no 5G service. While traveling out of my home area, I lost connection completely, even though my other devices with the same carrier had a strong signal.
An hour's session with an AT&T tech agent confirmed that the off-brand phone was not capable of accessing AT&T's 5G service and was only providing me with a much slower connection. The only Doogee-based tech support was an international phone call that would entail a service charge.
I was hugely disappointed in having to return the phone. So make sure your mobile carrier supports this or any other Doogee model before purchasing one.
---
Suggest a Review
Is there a tech product or application you'd like to suggest for review? Something you love or would like to get to know? Email your ideas to me, and I'll consider them for a future column.
And use the Reader Comments feature below to provide your input!